DOWNTOWN CANNABIS DISPENSARY TOUR - TORONTO
​
AVAILABILITY:
​
MTWThFSatSun: From 12 Midday

DURATION: 1 Hour
​
COST: $30 Per Person
​
WHERE WE WILL MEET: Downtown Toronto - Kensington Market area. On the corner of Augusta Av. & Nassau St. before we head over to the iconic 'One Plant' for your dispensary experience.
​
​
​
DESCRIPTION:
​
One Plant is the first licensed recreational cannabis retailer to open in the heart of Toronto's Kensington Market, a National Historic Site. The area is synonymous with the cannabis culture featuring vibrant bohemian vintage boutiques, art spaces, trendy bars, cafes and international restaurants that range from casual to fine dining
They offer one of the widest selections of cannabis in the city at the lowest prices in a comfortable 4800 square foot space that can accommodate groups of all sizes.
Catering to everyone from the canna-curious to the "OG" smoker, their passionate team of Budtenders will expertly guide you to any experience you are looking to achieve with sound advice. They love to talk cannabis with their guests and their Cannabis Sommeliers can walk you through all aspects of the plant at a very advanced level!

Community engagement is a priority for One Plant Kensington Market. They feature local food vendors, musicians and DJ's for our "One Love" events every Wednesday and Saturday. Creations from local artists are featured on their Interior and Exterior walls, with more exciting works to come! The owner is an active member of the Kensington Market BIA, and they partner with St. Stephens Community House to give back to those less fortunate.
​
​
INTENDED TOUR:
​
If you have never been to a cannabis dispensary before or are slightly nervous and unsure about what to do, what to ask, what to buy, let our knowledgeable and cannabis friendly host meet you, take you to the store and help you make that 1st informed decision on your cannabis purchase.
​
We'll include the following for ALL guests...
1. 10% discount on all purchases
2. Swag bag with at least 2 pieces of high quality swag from one of the dispensarys LP partners
3. A dedicated cannabis "sommelier" to answer questions, provide in-depth knowledge and a glimpse behind the scenes that will accompany you for the duration of yor visit
4.Optional joint rolling session/lesson post purchase
​
IMPORTANT MULTI PERSON BOOKING REQUEST INFORMATION
​
IF YOU ARE WANTING TO ADD ANOTHER PERSON OR ADDITIONAL PEOPLE TO YOUR BOOKING PLEASE ADD TO YOUR BOOKING WHEN MAKING PAYMENT – WE HAVE A MAX LIMIT TOTAL OF 4 PEOPLE PER BOOKING – THANK YOU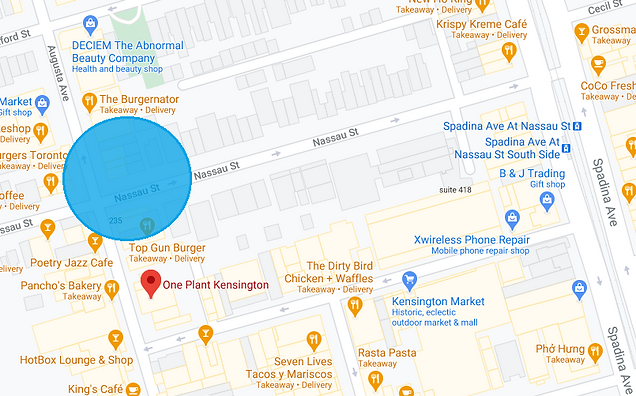 Hi I'm "Trystan"..(or Try) Originally from Toronto, I am your personable, bubbly, city-friendly guide who cannot wait for you to explore this vibrant part of the city with me.
I am 100% cannabis friendly, know Kensington Market really well and have a fantastic relationship with the amazing team at the 'One Plant' Dispensary -Book with me and you won't be disappointed!